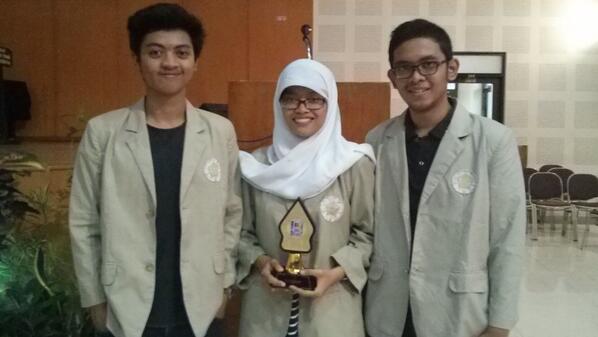 IVED 2014 Champs - UGM A (Alif Satria, Indriani Pratiwi, Romario Tambunan)
#1 Universitas Gadjah Mada A (Alif Satria, Indriani Pratiwi, Romario Tambunan) claimed the national 3-on-3 title after defeating #2 Universitas Indonesia A (Magreta Kailla Adenta, Revaldi Wirabuana, Elvia Sumayastra) in the final of the 2014 Indonesian Varsities English Debate through a unanimous decision. UGM's Indriani Pratiwi also bagged the best speaker award while her partners came second and third.
UGM speaker Alif Satria avenged his loss against UI debaters Magreta Kailla Adenta and Elvia Sumayastra who beat him in the final of the 2013 Java Overland Varsities English Debate six months ago. The victory is also the Yogyakarta school's third in IVED after winning the tournament in 2009 and 2011.
For UI, it was the fourth straight IVED final defeat. UI championed the first six IVEDs, as well as, the 2006 and 2008 editions but could not yet clinch a ninth triumph in the most celebrated nationwide debate tournament in Indonesia although showing a strong performance year after year. The consolation this year came from UI freshman Kristi Ardiana who won the best novice speaker award.
The surprise package in IVED 2014 came from Universitas Sanata Dharma, another Yogyakarta school but without UGM's notable debating record. Two Sadhar teams advanced into the knockouts, including #4 Sadhar A (Tethy Cahyati Pesoa, Irene Anindiyaputri, Vania Setiowati) after defeating 2 UI teams in the preliminaries. Sadhar debater Irene Anindyaputri emerged as the 4th best speaker, the first time ever a debater from her school slipped into the Top 10 debater list of a major Indonesian debate competition. The Sadhar teams are UGM-trained.
In the novice category, Lampung-based Perguruan Tinggi Teknokrat B (Timotius Immanuel, Zahra Mutiah, Yurisa Yulia Yunara) defeated Universitas Jenderal Soedirman A ( Dendi Liya, Chrisna Gilang, Shella Aliandri) in the final and became the first ever team from Sumatra island to take home a trophy from IVED. Previously, Java-based debaters swept all the accolades.