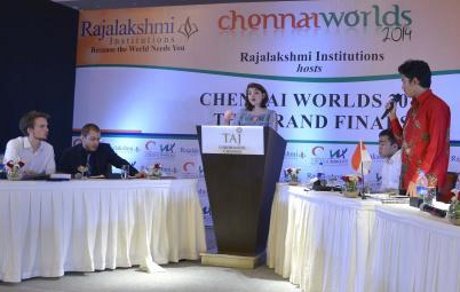 Fauzan Reza Maulana (ITB)in red batik offers POI in WUDC 2014 EFL Final
#8EFL Institut Teknologi Bandung A (Fauzan Reza Maulana & Vicario Reinaldo) proved Indonesian debaters can excel on the world stage after winning the English-as-Foreign-Language category of the 2014 World Universities Debating Championships. This is the first time an Indonesian team championed a category in WUDC.
In the final, ITB A successfully knocked down the motion "This House Believes That Multinational Companies Should Be Liable for Human Rights Abuses That Occur Anywhere in Their Supply Chain". They defeated #1EFL University of Warsaw A, Russia's #3EFL New Economic School A and #6EFL Eberhard Karls University Tubingen A from Germany.
Although they came to the final as the lowest ranked team among the four, they put up a brave fight. Their strategy as Opening Opposition to attack the failure of the government bench to characterize the relations between MNCs and their outsourced supply chain in developing countries paid off. Their tenacity from the beginning until the end of the debate also bore fruit. The ITB pair persistently threw damaging points of information at the opponents to strengthen their arguments. In the end, many of their points, from the impact of capital flight, as the by-product of the proposal, for rural areas in poor countries to the lack of direct control in the hands of the MNCs on their abusive suppliers, were left standing.
In the other restricted category, Berlin Debating Union A (Dessislava Kirova & Kai Dittman) from Germany became the English-as-Second Language champion of WUDC 2014. In the final, they defeated teams from Lund, Belgrade and Romania's Babes-Bolyai University.
ESL is a higher class than EFL. The latter is only for speakers with none to less than 6 months study in an English speaking country or institution with English as its language of instruction. A requirement that has made some Indonesian teams, including from Universitas Indonesia and Binus International, to compete as ESL participants.
Nobody from an Indonesian institution got into the top 10 speakers of the three categories (EFL, ESL and Open) but Stevensen Chen, an Indonesian debater representing Japan's Hitotsubashi University, became the 6th best EFL speaker. The best EFL speaker was Belgrade University's Helena Ivanov while Mubarrat Wassey from International Islamic University of Malaysia took the individual ESL title.